Lia at Lost In A Story started this weekly post to trim down the Goodreads to-read list.
The rules are simple:
Go to your goodreads to-read shelf.
Order on ascending date added.

Take the first 5 (or 10 if you

'

re feeling adventurous) books. Of course, if you do this weekly, you start where you left off the last time.

Read the synopses

 

of the books

Decide: keep it

 

or should it go?
Under the Dome by Stephen King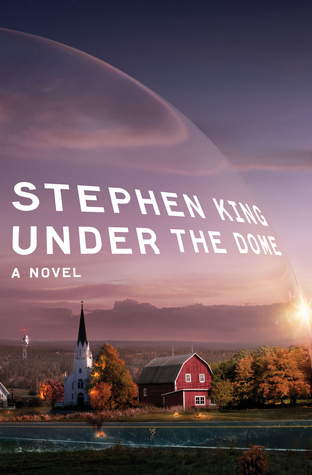 Goodreads Summary:
On an entirely normal, beautiful fall day in Chester's Mill, Maine, the town is inexplicably and suddenly sealed off from the rest of the world by an invisible force field. Planes crash into it and fall from the sky in flaming wreckage, a gardener's hand is severed as "the dome" comes down on it, people running errands in the neighboring town are divided from their families, and cars explode on impact. No one can fathom what this barrier is, where it came from, and when — or if — it will go away.

Dale Barbara, Iraq vet and now a short-order cook, finds himself teamed with a few intrepid citizens — town newspaper owner Julia Shumway, a physician's assistant at the hospital, a select-woman, and three brave kids. Against them stands Big Jim Rennie, a politician who will stop at nothing — even murder — to hold the reins of power, and his son, who is keeping a horrible secret in a dark pantry. But their main adversary is the Dome itself. Because time isn't just short. It's running out.
If you haven't read my blog in the past this may come as a shock to you: I've never read a Stephen King novel. I know, I'm awful. I did't watch The Dome when it was on TV, but I think it's such an interesting concept – the isolation and how those inside the dome act. KEEP
Firestarter by Stephen King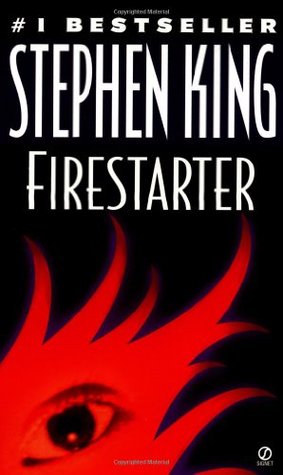 Goodreads Summary:

First, a man and a woman are subjects of a top-secret government experiment designed to produce extraordinary psychic powers.

Then, they are married and have a child. A daughter.

Early on the daughter shows signs of a wild and horrifying force growing within her. Desperately, her parents try to train her to keep that force in check, to "act normal."

Now the government wants its brainchild back – for its own insane ends.
Clearly I was on a Stephen King mission the day that I added these books to my TBR. This was before the time of Stranger Things but I can't help thinking of Eleven when I read the blurb. I might be horribly wrong, one day I might find out. KEEP.
The Charioteer by Mary Renault
Goodreads Summary:

After enduring an injury at Dunkirk during World War II, Laurie Odell is sent to a rural veterans' hospital in England to convalesce. There he befriends the young, bright Andrew, a conscientious objector serving as an orderly. As they find solace and companionship together in the idyllic surroundings of the hospital, their friendship blooms into a discreet, chaste romance. Then one day, Ralph Lanyon, a mentor from Laurie's schoolboy days, suddenly reappears in Laurie's life, and draws him into a tight-knit social circle of world-weary gay men. Laurie is forced to choose between the sweet ideals of innocence and the distinct pleasures of experience.
I've read a lot of books set during the war, but not many that focus on the aftermath, and this tale sounds compelling. I enjoyed Pat Barker's Regeneration so I'm hoping when I eventually get round to it this one will be equally moving.
History of the Rain by Niall Williams
Goodreads Summary:

We are our stories. We tell them to stay alive or keep alive those who only live now in the telling. In Faha, County Clare, everyone is a long story…

Bedbound in her attic room beneath the falling rain, in the margin between this world and the next, Plain Ruth Swain is in search of her father. To find him, enfolded in the mystery of ancestors, Ruthie must first trace the jutting jaw lines, narrow faces and gleamy skin of the Swains from the restless Reverend Swain, her great-grandfather, to grandfather Abraham, to her father, Virgil – via pole-vaulting, leaping salmon, poetry and the three thousand, nine hundred and fifty eight books piled high beneath the two skylights in her room, beneath the rain.

The stories — of her golden twin brother Aeney, their closeness even as he slips away; of their dogged pursuit of the Swains' Impossible Standard and forever falling just short; of the wild, rain-sodden history of fourteen acres of the worst farming land in Ireland — pour forth in Ruthie's still, small, strong, hopeful voice.
I don't remember putting this on my Goodreads TBR and I feel a little ruthless taking it off but at the moment, I can't see myself reading it for a while. GO
Heartless by Marissa Meyer
Goodreads Summary:

Long before Alice fell down the rabbit hole…
And before the roses were painted red…
The Queen of Hearts was just a girl, in love for the first time.
I actually have a copy of this book that I've had for… probably a year? So I will get to it eventually, I promise. I'm all for retellings and seeing things from a different perspective so I am looking forward to it! KEEP