It's been nearly a month since my last Goodreads clear. So I probably should dust off the shelves and see which books need to go! And which ones need to be bumped up the list!
Lia at Lost In A Story started this weekly post to trim down the Goodreads to-read list.
The rules are simple:
Go to your goodreads to-read shelf.
Order on ascending date added.

Take the first 5 (or 10 if you

'

re feeling adventurous) books. Of course, if you do this weekly, you start where you left off the last time.

Read the synopses

 

of the books

Decide: keep it

 

or should it go?
Middle Men: Stories by Jim Gavin
Goodreads Summary:

In Middle Men, Stegner Fellow and New Yorker contributor Jim Gavin delivers a hilarious and panoramic vision of California, portraying a group of men, from young dreamers to old vets, as they make valiant forays into middle-class respectability. In "Play the Man" a high-school basketball player aspires to a college scholarship, in "Elephant Doors", a production assistant on a game show moonlights as a stand-up comedian, and in the collection's last story, the immensely moving "Costello", a middle-aged plumbing supplies salesman comes to terms with the death of his wife.
I'm a big fan of the short story, as you all know. I might stop wittering on about them eventually, you can all live in hope, but yes they are one of my favourite things. There's just something so fascinating about turning a handful of pages into an entire story. And this does sound like an interesting collection. KEEP
Why We Broke Up by Daniel Handler
Goodreads Summary:

I'm telling you why we broke up, Ed. I'm writing it in this letter, the whole truth of why it happened.

Min Green and Ed Slaterton are breaking up, so Min is writing Ed a letter and giving him a box. Inside the box is why they broke up. Two bottle caps, a movie ticket, a folded note, a box of matches, a protractor, books, a toy truck, a pair of ugly earrings, a comb from a motel room, and every other item collected over the course of a giddy, intimate, heartbreaking relationship. Item after item is illustrated and accounted for, and then the box, like a girlfriend, will be dumped.
I never read the Lemony Snicket books, but I did read Daniel Handler's Adverbs (you see, the short stories crop up again), and I was completely seduced by the dark, offbeat humour. Handler is absurd and unpredictable and I think the concept for this book is interesting! KEEP
All is Not Forgotten by Wendy Walker
Goodreads Summary:

In the small, affluent town of Fairview, Connecticut everything seems picture perfect.

Until one night when young Jenny Kramer is attacked at a local party. In the hours immediately after, she is given a controversial drug to medically erase her memory of the violent assault. But, in the weeks and months that follow, as she heals from her physical wounds, and with no factual recall of the attack, Jenny struggles with her raging emotional memory. Her father, Tom, becomes obsessed with his inability to find her attacker and seek justice while her mother, Charlotte, prefers to pretend this horrific event did not touch her perfect country club world.

As they seek help for their daughter, the fault lines within their marriage and their close-knit community emerge from the shadows where they have been hidden for years, and the relentless quest to find the monster who invaded their town – or perhaps lives among them – drive this psychological thriller to a shocking and unexpected conclusion.
Before I read the summary I was so convinced this was going to be one of my 'go' books. I couldn't remember adding it to my list, or what it was about so I thought it would be easy to get rid of. But, it sounds like an interesting book, and one that raises questions about how we deal with trauma. KEEP
Cinder by Marissa Meyer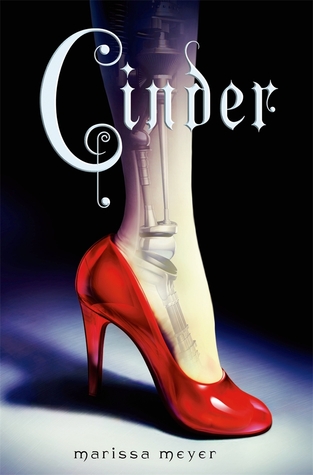 Goodreads Summary:

Sixteen-year-old Cinder is considered a technological mistake by most of society and a burden by her stepmother. Being cyborg does have its benefits, though: Cinder's brain interference has given her an uncanny ability to fix things (robots, hovers, her own malfunctioning parts), making her the best mechanic in New Beijing. This reputation brings Prince Kai himself to her weekly market booth, needing her to repair a broken android before the annual ball. He jokingly calls it "a matter of national security," but Cinder suspects it's more serious than he's letting on.

Although eager to impress the prince, Cinder's intentions are derailed when her younger stepsister, and only human friend, is infected with the fatal plague that's been devastating Earth for a decade. Blaming Cinder for her daughter's illness, Cinder's stepmother volunteers her body for plague research, an "honor" that no one has survived.

But it doesn't take long for the scientists to discover something unusual about their new guinea pig. Something others would kill for.
I know. Have you been living under a rock? I hear you ask. The answer is: I have been tempted but that's neither here nor there. The thing is fantasy and YA aren't the genres I instinctively go to so it's never been at the top of my list. I'm not sure how much I'd enjoy The Lunar Chronicles, but I would like to at least try and read Cinder. So for now it's a KEEP.
American Gods by Neil Gaiman
Goodreads Summary:

Locked behind bars for three years, Shadow did his time, quietly waiting for the day when he could return to Eagle Point, Indiana. A man no longer scared of what tomorrow might bring, all he wanted was to be with Laura, the wife he deeply loved, and start a new life.

But just days before his release, Laura and Shadow's best friend are killed in an accident. With his life in pieces and nothing to keep him tethered, Shadow accepts a job from a beguiling stranger he meets on the way home, an enigmatic man who calls himself Mr. Wednesday. A trickster and a rogue, Wednesday seems to know more about Shadow than Shadow does himself.

Life as Wednesday's bodyguard, driver, and errand boy is far more interesting and dangerous than Shadow ever imagined. Soon Shadow learns that the past never dies…and that beneath the placid surface of everyday life a storm is brewing – an epic war for the very soul of America – and that he is standing squarely in its path.

Another shocker. I still haven't read any Neil Gaiman. I have a signed copy of Norse Mythology at home waiting to be read but I think this is the book I most want to read. KEEP
I got rid of none. What a rubbish declutterer I am!
What do your TBR piles look like?