Top Ten Tuesday is a weekly meme hosted by The Broke and the Bookish. Each week they post a different topic that one of their bloggers answers, and they invite others to join in, by posting their answers as a comment of by creating their own blog post.
I've missed out on the last few weeks of Top Ten Tuesday, but I'm back and looking forward to sharing this weeks picks! The topic is Top Ten Book Boyfriends/Girlfriends (which characters do you have crushes on?), but I'm picking characters who have a special little place in my heart.
Raymond in Eleanor Oliphant is Completely Fine
Raymond was a great influence on Eleanor. He introduced her to new things without forcing her to change. He accepted who she was and helped her through the difficult moments and he never expected anything from her in return.
Anne in Persuasion
I know she didn't necessarily get things right the first time round with Captain Wentworth, but we've all done something because a friend has convinced us to when we were young, and through the book she has a quiet strength and compassion for others, and learns to stand her ground.
Charlie in The Perks of Being a Wallflower
Charlie will appear in any list of favourite characters. I will create a tenuous link and squeeze him in every time because he was the first character I related to, who was shy and introverted and saw the world in a way that felt familiar.
Starr in The Hate U Give
Starr goes through a lot of things that a girl her age shouldn't have to go through, that nobody should have to go through, but she does. Not only that she speaks out for herself, for her friend, and all the other people who face injustice because of racial stereotypes and police brutality.
Arya in the A Song of Ice and Fire series
Arya's chapters are probably my favourite part of the book series, closely followed by Jon (who almost made it onto this list, sorry Jon). Arya is relentless and resilient and nobody's fool.
Levi in Fangirl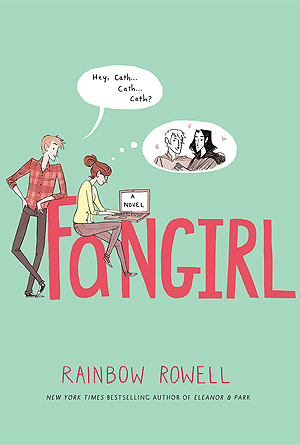 Levi is like an endless ray of sunshine, like a Labrador that's just stolen a piece of cake. He brings a lot of light to the book, and draws Cath out of her shell.
Elizabeth Bennett in Pride & Prejudice
I'm an Austen fan, what did you expect? Lizzie is defiant, strong-willed but able to admit when she's wrong. She's perceptive and quick-witted and not ashamed to be a little unconventional.
I've only picked 7 this week, which is a first, but there weren't any other characters that I felt quite fit the bill, and I didn't want to fill the last three spaces just for the sake of it (again, sorry Jon). Who would you pick to be your fictional other half?