I have a very strong sense of dejavu this week. I could've sworn that I'd already talked about some of these books, but my blog tells me I am mistaken. How weird. Clearly I've been thinking about this post so much that I thought I'd already written it. Or these books have been on my TBR so long they've become that familiar. It happens to the best of us. Anyway, let's have a look at whats staying and going this week!
Lia at Lost In A Story started this weekly post to trim down the Goodreads to-read list.
The rules are simple:
Go to your goodreads to-read shelf.
Order on ascending date added.

Take the first 5 (or 10 if you

'

re feeling adventurous) books. Of course, if you do this weekly, you start where you left off the last time.

Read the synopses

 

of the books

Decide: keep it

 

or should it go?
Bed by Tao Lin
Goodreads Summary:

College students, recent graduates, and their parents work at Denny's, volunteer at a public library in suburban Florida, attend satanic ska/punk concerts, eat Chinese food with the homeless of New York City, and go to the same Japanese restaurant in Manhattan three times in two sleepless days, all while yearning constantly for love, a better kind of love, or something better than love, things which–much like the Loch Ness Monster–they know probably do not exist, but are rumored to exist and therefore "good enough."
I'm a huge fan of short story collections. They hold a special place in my heart, and it's been a while since I read one. I'm giving myself a break now that I've finished my course but I would like to pick this one up one day. KEEP
Aurorarama by Jean-Christophe Valtat
Goodreads Summary:

1908: New Venice–"the pearl of the Arctic"–a place of ice palaces and pneumatic tubes, of beautifully ornate carriage-sleds and elegant victorian garb, of long nights and vistas of ice.

But as the city prepares for spring, it feels more like qaartsiluni, "the time when something is about to explode in the dark." Local "poletics" are wracked by tensions with the Eskimos circling the city, with suffragette riots led by an underground music star, with drug round-ups by the secret police force known as the Gentlemen of the Night. An ominous black airship hovers over the city, and the Gentlemen are hunting for the author of a radical pamphlet calling for revolt.

Their lead suspect is Brentford Orsini, one of the city's most prominent figures. But as the Gentlemen of the Night tighten the net around him, Orsini receives a mysterious message from a long-lost love that compels him to act.
As interesting as this book sounds I honestly can't see myself picking it up anytime soon. I'm all for Victorian-style adventures and the cover is beautiful but I don't think that's enough to lure me in at the moment. GO
My Most Excellent Year by Steve Kluger
Goodreads Summary:

Dear Anthony:

I appreciate your recent interest, but I'm not accepting applications at this time. Your letter will be kept in our files and someone will get back to you if there is an opening. Thank you for thinking of me.

Respectfully,
Alejandra Perez

P.S. It's not Allie. It's Ale.

Meet T.C., who is valiantly attempting to get Alejandra to fall in love with him; Alejandra, who is playing hard to get and is busy trying to sashay out from under the responsibilities of being a diplomat's daughter; and T.C.'s brother Augie, who is gay and in love and everyone knows it but him.
I can't get a huge grasp of the plot from this summary, or why I added it to my TBR in the first place, but I do like the sense of Alejandra I'm getting from the short letter. She clearly knows who she is. KEEP
The Boyfriend List by E Lockhart
Goodreads Summary:

Ruby Oliver is 15 and has a shrink. She knows it's unusual, but give her a break—she's had a rough 10 days. In the past 10 days she:

lost her boyfriend (#13 on the list), 

lost her best friend (Kim), 

lost all her other friends (Nora, Cricket), 

did something suspicious with a boy (#10), 

did something advanced with a boy (#15), 

had an argument with a boy (#14), 

drank her first beer (someone handed it to her), 

got caught by her mom (ag!), 

had a panic attack (scary),

lost a lacrosse game (she's the goalie), 

failed a math test (she'll make it up),


hurt Meghan's feelings (even though they aren't really friends),


became a social outcast (no one to sit with at lunch)


and had graffiti written about her in the girls' bathroom (who knows what was in the boys'!?!). 

But don't worry—Ruby lives to tell the tale. And make more lists.
I sobbed reading We Were Liars last year, and I've wanted to read more of E Lockhart's work since then. So I would like to give this series a go (at some point). KEEP
Vinegar Girl by Anne Tyler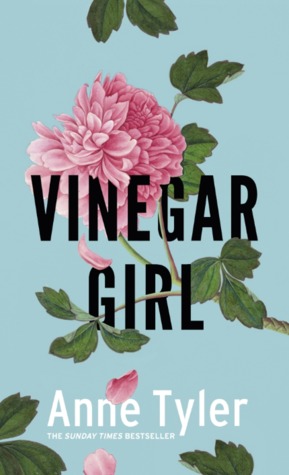 Goodreads Summary:

Kate Battista feels stuck. How did she end up running house and home for her eccentric scientist father and uppity, pretty younger sister Bunny? Plus, she's always in trouble at work – her pre-school charges adore her, but their parents don't always appreciate her unusual opinions and forthright manner.

Dr. Battista has other problems. After years out in the academic wilderness, he is on the verge of a breakthrough. His research could help millions. There's only one problem: his brilliant young lab assistant, Pyotr, is about to be deported. And without Pyotr, all would be lost.

When Dr. Battista cooks up an outrageous plan that will enable Pyotr to stay in the country, he's relying – as usual – on Kate to help him. Kate is furious: this time he's really asking too much. But will she be able to resist the two men's touchingly ludicrous campaign to bring her around?
I've wanted to read this Shakespeare re-telling for ages. I loved the BBC modern adaptation of The Taming of the Shrew. It gave me an appreciation of Rufus Sewell in a skirt. So I'm interested to see what another modern take would be like! KEEP
Surprisingly I actually did get rid of something! What are your TBRs like this week?