Another venture down the book filled darkness that is my TBR pile. I've been on a bit of an adding spree recently, my Goodreads list has grown – so it seems like now would be a good time to give it a clean out. Lia at Lost In A Story started this weekly post to trim down the Goodreads to-read list.
The rules are simple:
Go to your goodreads to-read shelf.
Order on ascending date added.

Take the first 5 (or 10 if you

'

re feeling adventurous) books. Of course, if you do this weekly, you start where you left off the last time.

Read the synopses

 

of the books

Decide: keep it

 

or should it go?
Giovanni's Room by James Baldwin
Goodreads Summary:

Baldwin's haunting and controversial second novel is his most sustained treatment of sexuality, and a classic of gay literature. In a 1950s Paris swarming with expatriates and characterized by dangerous liaisons and hidden violence, an American finds himself unable to repress his impulses, despite his determination to live the conventional life he envisions for himself. After meeting and proposing to a young woman, he falls into a lengthy affair with an Italian bartender and is confounded and tortured by his sexual identity as he oscillates between the two.

Examining the mystery of love and passion in an intensely imagined narrative, Baldwin creates a moving and complex story of death and desire that is revelatory in its insight.
I've been wanting to read this book for a while now. A tutor recommended it to me. It's definitely staying. KEEP
Thirteen Reasons Why by Jay Asher
Goodreads Summary:

You can't stop the future.
You can't rewind the past.
The only way to learn the secret . . . is to press play.

Clay Jensen returns home from school to find a strange package with his name on it lying on his porch. Inside he discovers several cassette tapes recorded by Hannah Baker–his classmate and crush–who committed suicide two weeks earlier. Hannah's voice tells him that there are thirteen reasons why she decided to end her life. Clay is one of them. If he listens, he'll find out why.

Clay spends the night crisscrossing his town with Hannah as his guide. He becomes a firsthand witness to Hannah's pain, and as he follows Hannah's recorded words throughout his town, what he discovers changes his life forever.
I watched the Netflix show a few months ago. The TV adaption changed a lot of things but I'm still interested in reading the book. KEEP
Elizabeth is Missing by Emma Healey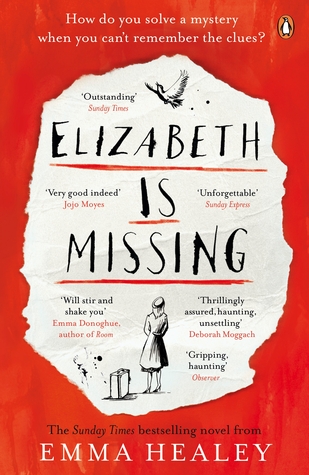 Goodreads Summary:

'Elizabeth is missing.' Maud keeps finding notes in her pockets with this message scrawled on it, but she can't remember writing it. That said, she can't remember much these days: the time of day, whether she's eaten lunch, if her daughter's come to visit, how much toast she's eaten. Still, the notes about Elizabeth nag at her. When was the last time she spoke with her best friend? It feels like ages ago…
I've always thought that the concept for this book was poignant and really original. I still think that. KEEP
The Hitchhiker's Guide to the Galaxy by Douglas Adams
Goodreads Summary:

Seconds before Earth is demolished to make way for a galactic freeway, Arthur Dent is plucked off the planet by his friend Ford Prefect, a researcher for the revised edition of The Hitchhiker's Guide to the Galaxy who, for the last fifteen years, has been posing as an out-of-work actor.

Together, this dynamic pair began a journey through space aided by a galaxyful of fellow travelers: Zaphod Beeblebrox, the two-headed, three-armed, ex-hippie and totally out-to-lunch president of the galaxy; Trillian (formerly Tricia McMillan), Zaphod's girlfriend, whom Arthur tried to pick up at a cocktail party once upon a time zone; Marvin, a paranoid, brilliant, and chronically depressed robot; and Veet Voojagig, a former graduate student obsessed with the disappearance of all the ballpoint pens he's bought over the years.

Where are these pens? Why are we born? Why do we die? For all the answers, stick your thumb to the stars!
This has ended up on so many of my Top Ten Tuesday lists recently. There are so many reasons why I want to read this book. I'm surprised I haven't yet. KEEP
The Golden Notebook by Doris Lessing
Goodreads Summary:

Anna is a writer, author of one very successful novel, who now keeps four notebooks. In one, with a black cover, she reviews the African experience of her earlier year. In a red one she records her political life, her disillusionment with communism. In a yellow one she writes a novel in which the heroine reviles part of her own experience. And in the blue one she keeps a personal diary. Finally, in love with an American writer and threatened with insanity, Anna tries to bring the threads of all four books together in a golden notebook.

Doris Lessing's best-known and most influential novel, The Golden Notebook retains its extraordinary power and relevance decades after its initial publication.
I started reading this book a few years ago and I couldn't get into it, but I think my tastes have changed since then and even though I put it down, the first few scenes have stayed in my mind. I'm ready to give it another go. KEEP
The TBR pile stays the same size. Oops. What are you're TBR piles looking like?